klassen
Biography
Norma Klassen BSW. RSW. works part time in the field of Social work as well as several private business enterprises. She is eclectic in interests as is evidenced in the book. Norma is also involved in advocating for equitable services for low-income individuals and persons with disabilities. Norma grew up on a small farm in Saskatchewan, Canada and has never lost her need to be part of nature. She is an avid reader, enjoys hiking in the Rocky Mountains and participating in family activities.
Books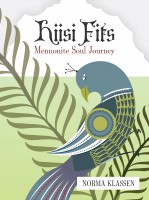 Hiisi Fits - Mennonite Soul Journey
by

klassen
Hiisi Fits Mennonite Soul Journey is a work of creative non-fiction employing at times stories entirely fictional to make poignant the intensity of energies at work. This is a journey of the soul. A story of creation and redemption, a story of one person, Anna, led to an awakening through threat of annihilation.
klassen's tag cloud