Leo Klinkers
Biography
Leo Klinkers (1943) graduated in 1968 from the Faculty of Law at the University of Utrecht in the Netherlands. After a few years working in local government, he became responsible for research and education in public administration at the Law Faculty of Utrecht from 1971 until 1983. He wrote his PhD thesis in 1974 on open access to Government documents. Between 1971 and 1983 Klinkers developed a method for interactive result-oriented policies and regulations. This methodology has been published in a number of books and articles. He left the University in 1983 to become an independent consultant in public administration. Since then he has applied his methodology in the administrations of Belgium, the Netherlands, Portugal, Indonesia, Thailand, Aruba and Suriname. For more information relating to background, publications and projects: www.kppc.nl.
Where to find Leo Klinkers online
Books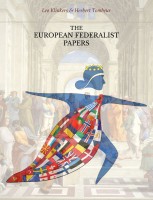 The European Federalist Papers
by

Leo Klinkers

&

Herbert Tombeur
Taking the American Federalist Papers (1787-1788) as the best benchmark, the authors of The European Federalist Papers present the facts and arguments why the current intergovernmental system of the European Union is no longer adequate and has to be replaced by a European Federation like the United States of America in order to guarantee the Citizens' and Member States' sovereignty.
Leo Klinkers' tag cloud