Rik Kluessendorf
Biography
Rik Kluessendorf is a solo-practice attorney in Wisconsin. He graduated from Berry College in 1998 with a bachelor's degree in history, then received his juris doctorate from Marquette University Law School in 2007. He has written local columns and blogs for his local Patch website, followed now by his first ebook, "An Attorney's Guide to Secession."

Rik generally presents a libertarian to conservative viewpoint on his topics, analyzing them through his education in law and history and attempting (if not succeeding) at injecting a degree of humor or satire into his writing.

Rik lives in Wisconsin with his wife and has his first child on the way.
Books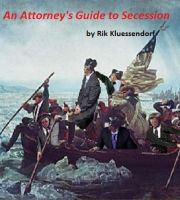 An Attorney's Guide to Secession
by

Rik Kluessendorf
The author offers up a path by which a group of people may secede from the United States, peacefully, legally, and successfully. In doing so, the author examines the relationship between states, citizens, and the United States government. This short work is intended as thoughtful political entertainment.
Rik Kluessendorf's tag cloud