K.M Alford
Biography
Katie was born in London and raised in Bristol. After a number of years in Middlesbrough, where she gained three degrees in 3d modelling and digital art subjects, she moved back to London, where she currently resides.

She loves playing computer games, watching anime and art and writing. She is a member of both the Kingswood Writers Group and the Greenacre Writers Group, who run the annual Finchley Literary Festival. She is really good at starting novels but not so good at finishing them, with her in progress works now into double figures.

As a day job, she works as an admin assistant which gives her many boring hours to contemplate her evening's writing. She has won a number of short story competitions but recently realised it was taking precious time away from her novel writing and so stopped entering them, but she does now sometimes judge them instead.

The current genres she has written works in include fantasy, sci fi, steampunk, dark fantasy, folklore and detective and she has recently dabbled a bit in poetry, she is not intending to take that any further, it just seemed a good idea at the time.
Books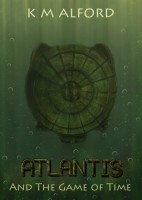 Atlantis and the Game of Time
by

K.M Alford
From the dingy annals of human prehistory, a new culture emerges. Like the Atlantians, they too can travel through time, but these are no passive, desk-soft anthropologists, and they will not be satisfied with coexistence. They desire to absorb, to assimilate, and will crush any civilisation that stands against them. The Atlantians know the price of complicity is too high; they will fight.
K.M Alford's tag cloud