Kenneth Morvant
Biography
Author, minister and life science professional Kenneth Morvant is a lifelong science fiction enthusiast with a love for the thought provoking classics and the modern action adventure oriented books and movies of the genre. My desire is to combine both so that the reader's perceptions are challenged along with entertaining their desire for a futuristic adventure.
Where to find Kenneth Morvant online
Videos
Beyond The Threshold Blog Intro
Introduction video for my website and blog
Books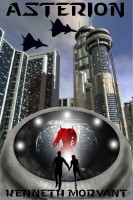 Asterion
by

Kenneth Morvant
For scientist Taylor Scott, genetic experimentation for the benefit of man collides with totalitarianism. Now he must survive his creation and the government that modified it for oppression. Playing God has its consequences.
Kenneth Morvant's tag cloud