Larry Bates
Biography
For over a century, Christians treated marital sex as something shameful. Women, in particular, were not supposed to enjoy it. Now, Christians are beginning to appreciate God's plan. This is currently a hot topic and is being covered by ABC News and Time Magazine., among other news sources...

When we needed this information, there was nothing on the market like our book (there still is not another). Christian oriented books are too spiritual to discuss techniques; books that discuss techniques are usually distinctly non-Christian and often promote dangerous practices. Our goal is to glorify God and give practical guidance.

My wife, Anita, and I have written a Guide to Sex for Christian Couples. The target audience is married Christian couples.

The chapters are: God Created Sex, Sex is Good for You, Talk to Each Other, Male Sexual Anatomy, Female Sexual Anatomy (because most women have never really looked and both sexes fail to understand the beauty of God's design), Hormones (including the amazing love hormone), Masturbation, Foreplay, Oral Sex, Intercourse, Problems (psychological and disease), Toys, Birth Control, Pregnancy, Infidelity, and (my favorite) Bad Ideas.

I am a recent graduate of Liberty University, earning the MA in Human Relations. Prior to that, I was a paramedic for 21 years. My wife, Anita, was a Psychiatric Registered Nurse for 20 years.

I have had articles published in The Fireside Shopper and Fun Things to do in the Mountains.

Larry Bates

About the illustrations: The illustrations used in this book were obtained from Wiki Commons and are believed to be in the public domain. If any are improperly credited, please contact Larry@larrybates.com so that other art can be substituted.
Books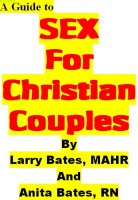 A Guide to SEX for Christian Couples Second Edition
by

Larry Bates
Most Christian oriented books are too spiritual to discuss techniques; books that discuss techniques are usually distinctly non-Christian and often promote dangerous practices. Our goal is to glorify God and give practical guidance. The first edition has had steady sales since 2009. This edition is updated and expanded, largely in response to questions and comments from our readers
Larry Bates' tag cloud