Krissy Clarke
Biography
Krissy Clarke is the pseudonym of a USA Today best selling author of romance novels and women's fiction who really was at JFK Airport on February 9,1964 when The Beatles arrived in America.
Books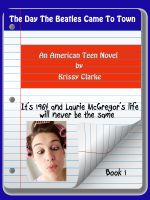 The Day The Beatles Came To Town
The year is 1964 and Laurie McGregor's life is about to change forever. The Beatles are coming to America and she's the lucky Long Island girl who is going to meet them at the Ed Sullivan Show! It's a dream come true but sometimes dreams aren't exactly what they seem . . .
Krissy Clarke's tag cloud