Kristelle Q. Samonte
Biography
ABOUT THE AUTHOR

Kristelle Q. Samonte first started it out as a part time agent at a real estate office in Omaha, Nebraska. Having the inner commitment to succeed in her new found job, she wasted no time in learning the insider tricks of the trade, and in no time she became the top selling agent in the area. She has finally resigned working for others and has created a real estate office of her own. To date she busies herself training her agents what it takes to succeed in the very competitive business of real estate selling.
Books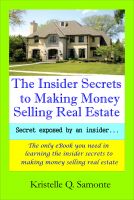 The Insider Secrets to Making Money Selling Real Estate
by

Kristelle Q. Samonte
Whether you are learning a new sport or developing any type of new skill, no one is successful in the beginning without spending some effort at trying to learn and practice their new skill. The best way to learn something new is directly from someone who has been there and has learned how to be successful.
Kristelle Q. Samonte's tag cloud