Kenneth Schnitker
Biography
I would like to tell you a little about myself. I am currently living in Minnesota. I have a bachelors and masters degree in Psychology. In addition, I have studied sociology, behavioral genetics and computer science. I have assisted in the research of endocrinology, genetics and clinical depression. Most recently I have taught undergraduate and graduate courses for a number of universities.

I have over 40 years of business and educational experience. This includes line management and as a business owner. I started a computer and business school which I ran for 14 years.

I am really pushing myself to get this book written since I am in hospice suffering with Idiopathic Pulmonary Fibrosis (IPF). IPF is a non-treatable, progressive, terminal illness with no known cause. I hope to live two more months so I can attend my youngest daughter's marriage on May 30, 2010. Let's hope.

I thought it would be cool to write a book and tell a story. I also wanted to write about some serious topics in such a way that others may take an interest in them. Lastly, I hope others will enjoy reading the store as much as I have enjoyed writing it.

Please leave any comments you wish to share at kschnitker@gmail.com.

Emergencies:
Estate Administrator, Attorney – Kirk Schnitker kirkschnitker@gmail.com
Daughter - Camille June camillejune@gmail.com
Son – Tyson Schnitker – ts@zcarchat.com
Daughter - Callie Schnitker – callie.schnitker@tufts.edu

Updates:
I am not a professional editor so my latest book will be touched up over time but the store will not change.
Books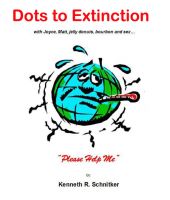 Dots to Extinction
by

Kenneth Schnitker
We have been abusing nature faster than it can heal itself. In our desperation for solutions we developed a sentient quantum computer and gave it access to all our knowledge. We gave it access to everything about everybody. The damn thing now knows more about us than we could ever know. As its creator is it good or evil? We know it does not need us so what will it do with us?
Kenneth Schnitker's tag cloud