Katie Hayoz
Biography
Katie Hayoz was born in Racine, WI, the youngest of six kids. Originally, she wanted to become pope (for the awesome hat and fancy robes), but quickly realized reading was her true religion. Writing was always a hobby and she only decided to try her hand at it seriously when she ended up in Geneva, Switzerland. Now she's constantly at her laptop in the small apartment she shares with her husband, two daughters, and two cats. She devours speculative fiction like she does popcorn and black licorice: quickly and in large quantities.
Where to find Katie Hayoz online
Books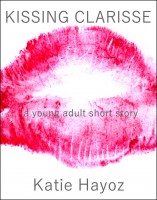 Kissing Clarisse: A Young Adult Short Story
by

Katie Hayoz
Clarisse Davies is by far the hottest girl in Scott's 1957 high-school class. No one but the school stud, Jay, seems to even have a chance with her. Yet when Scott's friends realize he can perfectly imitate Jay's voice, they come up with a plan that will give him the opportunity to kiss Clarisse. But at what price?
Katie Hayoz's tag cloud