Tae W. Kang
Biography
Deborah Menken Gill has ministered as a teacher, pastor, in missions, and directing Christian Education and Discipleship for the Assemblies of God USA. With a Ph.D. in Biblical Studies from Fuller Theological Seminary, she serves today as Professor of Biblical Studies and Exposition at the Assemblies of God Theological Seminary (AGTS). Her husband, Jan, is an architect specializing in church design.

Tae Wook Kang is an ordained pastor. When God called him to be a minister/pastor, he gave up pursuing a Ph.D. in Optical Sciences and came to the AG Theological Seminary to be equipped for his blessed call. He acquired a M.Div. from AGTS in 2012. Currently, he is the pastor at Vision of Love English Ministry in Hanover, MD. He holds a M.S. from University of Arizona and published a couple of articles in a peer-reviewed monthly scientific journal.
Books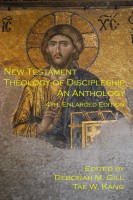 New Testament Theology of Discipleship, An Anthology, 4th ed.
by

Tae W. Kang

&

Deborah M. Gill
This collection of seminary-student papers on whole-life discipleship is arranged into two parts: Becoming Disciples of Jesus Christ and Making Disciples for Him.
Tae W. Kang's tag cloud