Thomas Kuffel
Biography
Besides being a computer consultant and financial advisor, Tom is an avid pilot and ham radio operator (call sign: AL7AU), both for over 50 years. He is an FAA recognized Flight Test pilot and instructor. Over the years he has had many articles published on radio construction, Porsche driving, computer programming, aviation electronics and piloting techniques. He is a Montanan political liberal. (For you Easterners, that is a liberal with a bunch of guns he likes to shoot for fun.)
His wife Betty is a semi-retired Emergency Room Medical Doctor and author. Her true crime book about child sexual predators, Eyes of a Pedophile, is available on-line. She has also written several novels. They live in Whitefish Montana with their dog, Valkyrie, and the experimental airplane they built together.
Books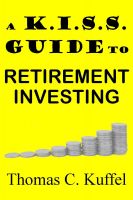 A K.I.S.S. Guide To Retirement Investing
by

Thomas Kuffel
This is a cookbook of how to invest for retirement. The optimum strategy of equity stock investing is demonstrated. The negative impact of other types of investments and inflation is shown. These complex issues are reduced to simple steps.
Thomas Kuffel's tag cloud