A.M. Kurylak
Biography
A.M. Kurylak is a debut author who has a passion for romance and fantasy novels. She loves discovering new authors and living the stories they weave, as a result she is in-spired everyday to improve her own writing.
When she isn't writing, she can be found experimenting in her kitchen, gaming on her console or with her nose deep in a new book.
She lives in the beautiful historic city of Gloucester, England, with her gorgeous tortoise-shell cat Kasha.
Books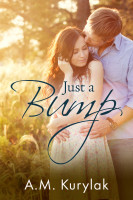 Just A Bump
by

A.M. Kurylak
Jenna Harris is a girl who once dreamed of traditional happiness; husband, children etc. Everything she thought she would ever need to feel complete in life. But three years after being diagnosed with Polycystic Ovarian Syndrome, Jenna is no longer the girl she once recognised. A break up leaves her self esteem in shreds and she fears she will never find herself again.
A.M. Kurylak's tag cloud