Kamila Vann
Biography
Kamila Vann is a proper professional by day, but a naughty kinkster by night. She's finally submitted to her true nature by writing down all those fantasies that kept her up so late at night.

Finding plenty of inspiration in real life, she gives full rein to her imagination. Live out your fantasies in her stories or discover some new ones. Ranging from sultry and steamy vanilla to erotic adventuring with various flavors of kink thrown in, her stories will have you opening doors in your mind, soul and heart you didn't know existed. She makes some other kinky novels blush. Don't be afraid!

There are no limits to what she writes about or how far she will take you on your journey. If you love bold, feminist women who know what they want and how to get it, you can find them here. Dominant heroes? Check. Sexually adventurous men and women? Yes. The intrigue of power exchanges? Check. Utter glorious submission and stern loving dominance? Scandalous kink and taboo relationships, that too. Naughty fantasy-driven scenes and sexy role play? Yes, yes, yes.

Follow her ig@kamilavann.
And feel free to kik her @kvannille. Read her stories and let her know what you think. Or maybe you'd like to share a fantasy or two...
Books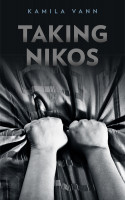 Taking Nikos
by

Kamila Vann
Caroline kicks it up a notch when her lover Nikos stops by for a post-surf sex session. The anticipation alone promises plenty of steamy sex, but Caroline seeks to possess this worldly sophisticate any way she can. Will her normally alpha lover submit to a little kinky play to entertain his lover?
Kamila Vann's tag cloud