Chou Kok wee
Biography
From The Authors: As husband and wife, we have created this eBook together and are already working on our next one.

Charles graduated from a local University as a Mechanical Engineer, currently taking the final stage of PHD in Metaphysical. His main interest and passion is within healing techniques.

Debbie is currently managing a printing business and is also very keen to learn healing techniques. She always feels that helping others is the best thing to do in life. She is also diligently practicing what we learn from our techniques now looks 20 years younger.

We are constantly seeking inexpensive techniques to maintain our health while curing diseases and difficult conditions. We want to teach these techniques to the world so that others can benefit from it. We are educated in both the languages of English and Chinese. Our backgrounds allow us to bring these secret remedies from Asia to the rest of the world. We hope that people all over the world can reduce suffering from painful illness.

In the past, we have tried many methods of healing and have even marketed natural health products in Indonesia. We have received great positive feedback from our loyal customers. We've noticed that for all of our products, the healing varies by each individual. Herbal pills may work for one person but may have no effect on the other, while healing becomes less effective.

When we were young we mostly used Western medicine, but our health was never improved and there were many side effects. We later tried Chinese medicine and herbal tonic, which only worked occasionally. It is less effective now as the herbal quality has deteriorated. It is very hard to find genuine herbs these days and this led us to search for more effective treatments. We finally found that the coconut oil can improve health and works well on most people. We have seen so many people change their lives using coconut oil treatments, yet this method has not been spread widely. It is therefore our intention to publish this information as an eBook so that people all over the world can easily access to this life changing technique.
Books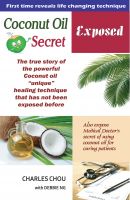 Coconut Oil Secret Exposed-The true story of unique healing power. From Spiritual to Scientific discovery
by

Chou Kok wee
(5.00 from 1 review)
The true story of the unique and powerful coconut oil healing technique that has never been revealed before! Most of the techniques used here are not available anywhere else. You cannot find any resource, such a book or website that explains this simple and amazing technique.
Chou Kok wee's tag cloud