Stanislaw Kwiatkowski
Biography
Stanisław Kwiatkowski, absolwent Szkoły Głównej Planowania i Statystyki (SGH) w Warszawie i Szkoły Filmowej w Łodzi. Od 1978 roku mieszka w USA. Wieloletni redaktor naczelny miesięcznika kulturalnego Forum, wydawanego przez Polsko Amerykańskie Centrum Kultury w Cleveland. Autor szeregu opowiadań oraz powieści "Niedokończony lot" (Wydawnictwo "Nowy Świat", Warszawa 2009) i "Anioły nie płaczą" (Wydawnictwo "Nowy Świat", Warszawa 2010).
Books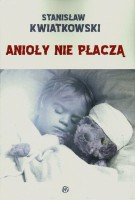 Anioły nie płaczą
by

Stanislaw Kwiatkowski
This touching and sometimes humorous story unfolds in a hospital children's surgical ward. The protagonist is a ten–year–old boy whose suffering is almost unbearable and provides the setting for questions regarding the meaning of suffering, particularly the suffering of children. Who is responsible for such misery?... Is there an answer?...
Stanislaw Kwiatkowski's tag cloud