Kylie O'Brien Hall
Biography
Kylie O'Brien Hall is an Elementary School Teacher in the San Francisco Bay Area. During her first year of teaching, she decided that her students needed a classroom pet, but preferably a pet that wouldn't leave her any "special surprises" to clean up. Her solution: a loveable stuffed animal named Ribbit the Frog. From the very first day, Ribbit magically came to life. The students delighted in hearing about his imaginary adventures, which inspired Kylie to put them in writing. Now children everywhere can enjoy reading about Ribbit's adventures in an imaginary world where animals can talk and even the least-likely of frogs can be a hero.
Where to find Kylie O'Brien Hall online
Books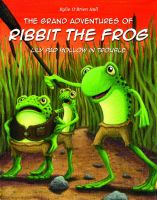 The Grand Adventures of Ribbit the Frog: Lily Pad Hollow in Trouble
by

Kylie O'Brien Hall
A heroic tale of a young frog who bravely crosses the cattail borders of his small town of Lily Pad Hollow in search of missing flies. Along the way, he battles ferocious creatures, makes friends with a group of unlikely critters, and comes face to face with an enemy more evil than he had ever imagined. Will Ribbit be able to solve the mystery of the missing flies and live to tell the tale?
Kylie O'Brien Hall's tag cloud