Khenpo Kyosang Rinpoche
Biography
Khenpo Kyosang Rinpoche (Wylie: mkhan po skyo sangs rin po che) is a spiritual teacher (lama) of Tibetan Buddhism. Born in Tibet 9 years before the Chinese invasion of 1959 (see reunification of China), he was ordained as a monk at an early age. In the same year he flew with other monks to the South India and grew up in a monastery in exile, where he worked as an assistant teacher. At the age of 33 he has received his geshe hlarampa degree (doctorate in Buddhist philosophy) and the title of khenpo (abbot). In 1988 Rinpoche went to London to spread the Teaching of Buddha in Europe. Having experienced many difficulties, he finally founded in 2001 Je Tsongkhapa Ling Buddhist College and Home Retirement (Tib. rje tsong kha pa rig pa'i 'byung gnas gling) in Alsace, France. He remains its director until now. In September 2012 he went to his silent retreat.[1] In 2013 Rinpoche published a book of his sermons under the title Snow Lion Faces Europe.[2] This book provides sharp criticism towards the Western society, Western democracy, and consumption as modern paganism. Rinpoche Passed Away on July 31, 2014.
Where to find Khenpo Kyosang Rinpoche online
Books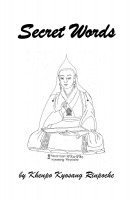 Secret Words
by

Khenpo Kyosang Rinpoche
The book contains "Forty-Nine Aspirations", given by Khenpo Kyosang Rinpoche as an oral teaching in Summer 2011 and recorded by His disciples, as well as His Last Interview, given by Him two days before His death. Some parts of this book have never been published before. We ask you to regard the fee you pay for this book as your donation to Je tsongkapay Ling Buddhist College.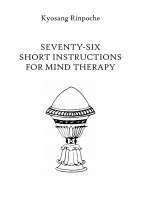 Seventy-Six Short Instructions for Mind Therapy
by

Khenpo Kyosang Rinpoche
This precious teaching was given by Khenpo Kyosang Rinpoche, a famous Lama of Tibetan Buddhism, five years before his Passing Away in 2014. Having read this book, he found it to be quite correct. We are happy to publish it now. Our sincere thanks to Mr David White who assisted with proofreading this short text.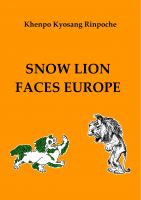 Snow Lion Faces Europe
by

Khenpo Kyosang Rinpoche
This profound book is a collection of religious sermons. Yet its author, Khenpo Kyosang Rinpoche, never was a priest. He, director of the Je Tsongkapa College, is an outstanding Tibetan Buddhist lama. Rinpoche's observations of Western society, far from idea of "political correctness", may shock anyone. However shocking they are, their truth will strike the reader.
Khenpo Kyosang Rinpoche's tag cloud