Patricia O'Neal
Biography
Born and raised in the foothills of southeastern Kentucky, Patricia Estep O'Neal reveals segments of her family life as the tenth of thirteen children. Family life began when her parents lived on large farms in Tennessee and Virginia. Their move to a small Kentucky town was where they raised their children. World War I, the Depression years and World War II brought hard times and sadness, leaving scars on this family. Patricia tells about life as the youngest of seven living sisters, two brothers, the hard times and the fun and laughter shared with them. The friends she started the first grade of school with became the ones with whom she graduated high school. The bond between them grew. Patricia's social life consisted of inner action at school and church with family and friends.

Her mother spent many hours telling stories about life in the hills where the farm was divided by the state line between Tennessee and Virginia. She would tell about grandparents' experiences during the Civil War. The family stories were recounted often, and little by little, they made an impression on Patricia. Today, she has written a collection of short stories. You will enjoy a fraction of history, childhood tales, laughter and tears as you read and relate to the life of this small-town Kentucky lady.
Books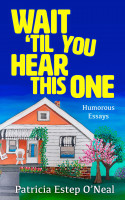 Wait 'Til You Hear This One
by

Patricia O'Neal
Walk in the footsteps of one family as they set off on a journey from the hills of Appalachia, travel through Tennessee and Virginia then finally settle in Kentucky. Patricia repeats stories told by her mother and seven siblings in many of 100 short stories. Her personal experiences will have you recalling your childhood and the kindred relationships that live on.
Patricia O'Neal's tag cloud