Eugene LaCorbiniere
Biography
It is not the outward appearance that makes a man a man, but the things deep within that one can not see with the naked eye. However, with the passage of time those things not seen will be found in their deeds. One should not prejudge, categorize, label, make up ones mind, or conclude anything about anyone before getting to know what that person is bringing to the table. Inside is information about individuals that would have never made it without self confidence and the belief in themselves, no matter what was said about them, or their race. We all can succeed if we persevere to always do better. This book is dedicated to my son Armani LaCorbiniere, may you meet a better world as you walk into manhood.
Books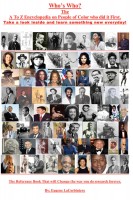 Who's Who — The A to Z Encyclopedia on People of Color who did it first
by

Eugene LaCorbiniere
Who's Who is the only people of color historically based reference book of its kind. It's a book that contains the names, faces, and life stories of Africans, African Americans, and many other people of color from around the world who have achieved great goals first. We honor those who have made the sacrifice, and gone beyond the boundaries of what was expected of them to better humanity.
Eugene LaCorbiniere's tag cloud