Lane Avenger
Biography
The product of the union of a Welsh mother and Native American father, Buffalo Wings Avenger, Lane was born on an Indian Reservation near Montreal, Canada, which gave him his lifelong love of Arcade Fire and the oppression of the indigenous Innuit people.

Educated at the Husonc Aademy, where, after a patchy start, he excelled at languages and was fluent in German, Welsh and Visual Basic by the age of 7. He became the first pupil from Husonc to attend Oxford when he was offered a scholarship to read superconductivity and haberdashery at Oxford Brookes University. His innate sporting talent enabled him to get a Blue, but he was unable to get the Pink as it was behind the Black.

A disciple of Professor Hamilton at the University of Dusseldorf, his seminole treatise on "The Psychological Aspects of the Behaviour of Subatomic Particles", subtitled "The charm of quarks – is it all spin?" was a minor sensation in the UK and temporarily displaced Princess Diana from the front page of the Daily Express.

Following a successful period as head of standing around in a white coat at the Laboratoire Garniere, a poor knee led him to accept the Lutheran chair of physics at the University of Heidelberg. At this time, with the exception of the extra-terrestrial entity known as Brainiac, Lane did not view any other being as an intellectual peer. He subsequently moved to the University of Northern Westphalia where he sat on the Bizarro settee of microbiology.

In 2009, having completed his lounge furniture, and following a bitter dispute over how big hadrons had to be to be allowed into the CERN Large Hadron Collider, Lane left academia to spend more time commuting (he was after all a Roads Scholar).

Although universally acknowledged to be the founder of the 'Take back the Highway' movement, and despite numerous donations to the Conservative party, he is yet to receive any recognition for his contribution to society.

Impressive as it is, there are some unexplained gaps in his CV, notably in 1976, 1980, 2003 and 2012 - strangely coinciding with the Israeli raid on Entebbe, the end of the Iranian Embassy siege, the capture of Saddam Hussein and the brutal slaying of Osama Bin Laden. However Lane has always insisted that he was 'just between jobs' and 'probably watching television' at the time.

Lane is married with two children, a teenager and Head. His hobbies include nouvelle cuisine, phrenology and homo-erotic topiary, and he spends his days off memorising poems in a white van parked on motorway bridges.
Books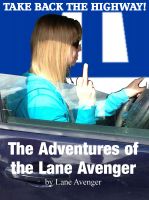 The Adventures of the Lane Avenger
by

Lane Avenger
Ride with Lane as he fights middle lane hoggers, tailgating BMWs and car-hating local authorities for truth, justice and a bit of consideration for others on the highways of the UK. Rediscover lost skills, like using indicators and pulling in after overtaking and learn new ones like The Nudge, LA Stare and Flying 'H' and maybe one day you too could become a Lane Avenger. More hate less speed. 399
Lane Avenger's tag cloud