Ty Treadwell and Michelle Vernon
Biography
Ty Treadwell's short stories have appeared in Writer's Journal, Unreality, Over My Dead Body, and many other magazines. These stories can now be found in the collection Down a Crooked Road; Tales of Mystery & Suspense. He has also sold over 150 non-fiction articles. His awards include a gold medal in the essay category at the 2008 GAMMA Awards and first prize in the 2007 Travel Writing Contest sponsored by Writer's Journal. He once taught writing classes for Clayton State University and now teaches an online writing class that attracts students from across the country.

Michelle Vernon was born in Alabama, and raised in North Carolina in a family nurtured by a brilliant and funny academic father and a dramatic and adventurous mother. She credits both parents with her love of learning but her interest in true crime comes from her mother. On a school field trip as a child her mother had her picture taken sitting in Yellow Mama, Alabama's electric chair!

Besides true crime, Michelle has many interests including psychology, nutrition and history. She once spent her vacation on a medieval restoration project in France. She values breadth of experience, illustrated in part by her occupational diversity. She has held positions in printing, retail, food service, counseling, psychology research and is currently a corporate worker bee.

She's an indulgent caretaker to a wonderful dog Patches and cat Piseach. She is a hobbyist soap-maker and In her spare time she loves to ride horses. She has even competed in local barrel-racing and cowboy mounted shooting. She is still in search of her tribe.
Books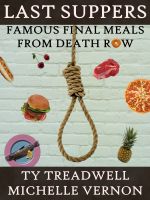 Last Suppers: Famous Final Meals from Death Row
by

Ty Treadwell and Michelle Vernon
(4.00 from 1 review)
One condemned man requested 24 tacos, 6 enchiladas, and 6 tostadas. Another wanted wild rabbit and biscuits. And a two-time murderer asked for a can of SpaghettiOs then complained to the press when he didn't get it! The 10th anniversary edition of this unique humor book lists dozens of bizarre last meals along with weird execution facts, jailhouse recipes, and other tidbits of death row trivia.
Ty Treadwell and Michelle Vernon's tag cloud