Laura Peyton Roberts
Biography
Laura Peyton Roberts is the author of numerous books for teens and tweens, including the Clearwater Crossing series, GHOST OF A CHANCE, THE QUEEN OF SECOND PLACE, QUEEN B, GREEN, and WALK ON WATER. Visit her at www.LauraPeytonRoberts.com.
Where to find Laura Peyton Roberts online
Books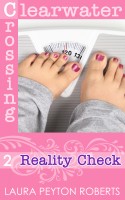 Reality Check (Clearwater Crossing Series #2)
Jenna and her friends are having a car wash to help needy kids, but there's more in the air than soapsuds. . . . Leah and Miguel are trying to keep their new love a secret, but a heartbroken Jenna is the first to find out. Peter's got a crush too—on Jenna! And Nicole is determined to win a national model search to repay conceited Jesse for humiliating her at school. Clearwater Crossing Series #2
Get a Life (Clearwater Crossing Series #1)
When a classmate is diagnosed with leukemia, the students at Clearwater Crossing High organize a fund-raising carnival. But after they've formed teams to work the booths, the eight members of one group find they couldn't be more different. When an unexpected tragedy strikes, will these unlikely friends come together again? Or is it time to say good-bye? Book 1 of the Clearwater Crossing series.
Laura Peyton Roberts's tag cloud