James W Marvin
Biography
Laurence James was a member of the original 'Piccadilly Cowboys'. In 1972 he became a full-time freelance author and journalist and for many years thereafter published short science fiction stories in both Britain and the U.S. In 1974 he published his first novel, Earth Lies Sleeping which introduces galactic secret agent Simon Rack. The series is shortly to appear in electronic form under the PP imprint. At around the same time, Laurence published a fantasy saga of Hells Angels under the name 'Mick Norman'. The four books, Angels from Hell, Angel Challenge, Guardian Angels and Angels on my Mind, were later repackaged as The Angel Chronicles by Creation Books. Laurence went on to enjoy a highly prolific career, publishing dozens of novels under his own name as well as various pen names. Today Laurence is best-remembered for his post apocalyptic Deathlands series, for which he penned more than thirty novels under the name 'James Axler'. He was also a gifted western writer, and among his many western credits are such series as Crow, Apache, Herne the Hunter, Caleb Thorn and Gunslinger. His other series work included The Witches as 'James Darke', Wolfshead as by 'Arthur Frazier', The Vikings as 'Neil Langholm', Survival 2000 as 'James McPhee', the Confessions series as 'Jonathan May', The Killers as 'Klaus Netzen' and The Eagles as 'Andrew Quiller, plus two stand-alone novels as 'Richard Haigh'. His frequent collaborators included Terry Harknett, John Harvey, Angus Wells and Kenneth Bulmer.
Where to find James W Marvin online
Books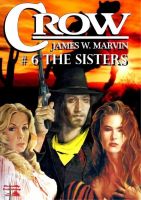 Crow 6: The Sisters
by

James W Marvin
The small town of Howell's Leap offered no comfort for the man called Crow. If fact, they wanted to lynch him. He escapes by the skin of his teeth after killing Crazy Alice but only to find himself the target of vengeance from her two beautiful but deadly sisters. Sixth in the bloody and violent Western series by James W.Marvin.
James W Marvin's tag cloud