Cheryl Lawson
Biography
After a near death experience and debilitating illness, Cheryl knew it was time to turn her life around beginning with a written personal account of her story. She is a former library director and a survivor speaker for the American Heart Association, where more information about her experience can be found at their "Stories from the Heart" website. Her contribution to the field of Library and Information Science includes several published articles in addition to a co-authored textbook. Besides working on her second book related to Broken Heart Syndrome, she enjoys lecturing about the subject, practicing yoga, and meditation.
Smashwords Interview
Books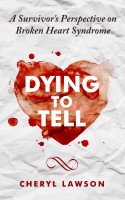 Dying to Tell: A Survivor's Perspective On Broken Heart Syndrome
by

Cheryl Lawson
For the approximately 715,000 people experiencing heart attacks each year, roughly 2% are Broken Heart Syndrome related with women being far more vulnerable than men, carrying the greatest risk to those ages 50 and older. Cheryl's story provides hope for change in the survival rate with helpful resources that can be used to avert the fallout from the damages of stress that plague modern society.
Cheryl Lawson's tag cloud