Lisa Boesen
Biography
Lisa Boesen is a Houston based coach, author and creator of The Domestic Administrator and Creating Compassionate Connections. She was generously and lovingly crowned "Boesen DA" by her husband in 2009. As a wife, stepmom and professional working from home, the title fit all those tasks and small projects she performs to manage the household, save money, clean, improve efficiencies, reduce waste, navigate the ever confusing healthcare system, garden, maintain a social calendar to improve longevity, nurture friends and family relationships and of course, make her home pretty. Sound familiar? Lisa loves color coding chaos, Mother Teresa, Warren Buffet and Da Vinci. Her personal mantras are "In Moderato" and "Any more would be too much." For those who need a bit more on the professional side, Lisa has over 35 years in healthcare including clinical management, human resources and performance improvement. She holds a Masters in Organizational Management, is a certified professional coach, certified Myers Brigg Type Indicator practitioner, trainer, facilitator and compassion fatigue specialist. She loves healthcare and enjoys sharing her expertise with consumers and providers alike. She enjoys working with clients who want to improve personal management skills, navigate change, and build resiliency during the cycles of career and life events. To see Lisa in action, click here http://youtu.be/j3WCl3453Wc.
Where to find Lisa Boesen online
Books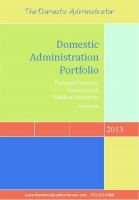 The Domestic Administrator Portfolio
By
Lisa Boesen
Price:
$7.95 USD.
Words: 5,500. Language: English. Published: April 9, 2013. Category: Nonfiction
42 page home management binder to inventory personal, financial and medical information.
Lisa Boesen's tag cloud