L.C. DeMaio
Biography
L.C. DeMaio is a fiction writer native to New Jersey with a passion for history, sarcasm, and getting into pointless arguments. Growing up on authors like Stephen King and Harlan Coben, L.C. developed an affinity for the Horror, Thriller and Crime genres, which he frequently infuses into much of his work. Belting out fiction since the fourth grade, writing has always been one of L.C.'s favorite creative outlets, enthralled by the various (not always pleasant) reactions he could elicit from readers. Using a number of aliases, he's penned numerous stories floating around the darkest reaches of the internet since he was an awkward, chubby teenager—a few attracting considerable notoriety. (He's more proud of some than others). Scream Season marks L.C.'s first leap into the world of published fiction. He's just getting started, and has no plans on stopping anytime soon.
Where to find L.C. DeMaio online
Books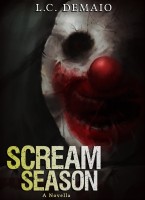 Scream Season
by

L.C. DeMaio
An aging theme park hides a gruesome secret. A secret one college kid and his two best friends accidentally stumble upon while searching for his lost young sister. After getting separated from her during a bizarre, drug-fueled October evening at the park, the three friends are pitted against a strange employee, and soon, each other as tensions heighten in this graphic, emotional Horror novella.
L.C. DeMaio's tag cloud