Leah Joki
Biography
LEAH JOKI is an actor, writer and director. She is a graduate of the University of Montana and the Juilliard School's Drama Program. Before she was smitten by prison- theater she worked as an actor in New York and Los Angeles. Under the auspices of Arts in Corrections she taught and/or performed in almost every state prison in California. Her career in prison spanned over eighteen years. She was the Institutional Artist Facilitator at Chuckawalla Valley State Prison in Blythe and at the California State Prison – Los Angeles County in Lancaster. She was the first female Artist Facilitator in a men's maximum-security prison. Her arts program was profiled in The Los Angeles Times, American Theatre Magazine and The LA Weekly. In addition to JUILLIARD TO JAIL she has also written the one-woman show HAIRBALL (The demystification of how one's life turns to crap!), the plays Geezer's Cabin, The Big Picture and The Year of Baldwin. She has had articles published in SOUTHSOUND LIFESTYLES and is currently working on her second novel, The Avon Café. She is a native of Montana and now lives there again.
Where to find Leah Joki online
Books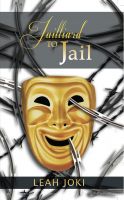 Juilliard to Jail
by

Leah Joki
Leah Joki was a Juilliard-trained actress looking for fame and fortune in Hollywood, but her path took a one hundred and eighty degree turn when she fell in love with teaching theater in prisons.
Leah Joki's tag cloud