Tim Lebbon
Biography
Tim Lebbon is a British fantasist who is barely 40 years old (b1969). He has been publishing his brand of dark fantasy for less than 15 years. Yet in that short time he has garnered an astounding 23 nominations and an unheard of 7 wins for every major award the fantasy field has to offer (The British Fantasy Award, The International Horror Guild Award, The Bram Stoker Award, The Locus Poll, The World Fantasy Award, and the Shirley Jackson Award). He has led (by example) the movement to restore honor to the novella as a vehicle for the horror tale.
Books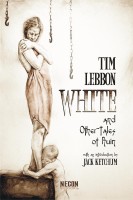 White and Other Tales of Ruin
From the introduction: "These stories are meant to chill you, to hurt you ... for the right reasons ... because of the people. In each one hell's broken loose ... and something in the world is winding down. But that doesn't mean the human spirit's winding down. That's where the stories get their teeth from and why they hurt ... He will not insult your intelligence ... with cheap tricks."
Tim Lebbon's tag cloud