Leigh-Ann Andersen
Leigh-Ann Andersen is an enthusiastic young woman with a lifelong passion for learning. She resides in central Canada with her cats, dogs, fish, and one very noisy red-eyed tree frog. She also has two beautiful young children, Tristan and Rowan. Both boys, they are the light of her life, and really enjoy the fact that "Mommy" is so unique. The entire family is passionate about animals.

Leigh-Ann grew up surrounded by animals. Cats, dogs, horses…she knew them all well. Whether it was Arabians racing around barrels, Golden Retrievers on the obstacle course, or Persians in the show ring, she was always having fun with her favorite creatures. It was only natural, then, that she grow up to write about these three very different species. Today she studies dogs, horses, and cats even as she blogs about them, sharing her extensive knowledge with others.

A part-time and lifelong student, Leigh-Ann is pursuing a PhD in creative writing. As a hobby, she also studies anthropology, general religious studies, and politics at the University of Winnipeg. Her love of learning inspires her writing in its many forms. As a career, she writes fantasy novels under the pseudonym LA Quill, romance and poetry as Tamora Rose, and new age non-fiction as Aislin. She is also a popular web content writer on a variety of subjects, posting under her legal name, Leigh-Ann Andersen.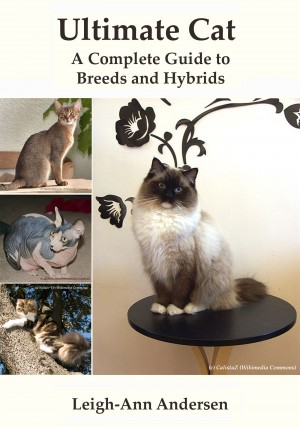 Ultimate Cat: A Complete Guide to Breeds and Hybrids
by

Leigh-Ann Andersen
The numerous cat breeds are both varied and mysterious. Most have tails, some do not. Some have curled ears, some have huge ears. Some have long hair, some have short, and some have no hair at all. Some have hair, but it's really no more than a little peach fuzz. These differences are fascinating to behold and helpful to all those interested in sharing their home with a cat.