Robert Reed Paul Thomas
Biography
The following is in reference to the novel, "Forest & Kingdom Balance"

I am a visual storyteller by trade. I've created imagery in one form or another most of my life as a photographer, graphic designer, and motion graphics designer. I grew up enthralled by classic science fiction. H. Beam Piper, McCaffrey, Heinlein, Herbert, Dickson, and E. E. (Doc) Smith were a few of my favorites. As science fiction matured through the second half of the twentieth century, I found myself longing for an earlier style that seemed to have gone out of vogue. The solution was to write the story I wanted to read, which happened quite by accident.

I started writing for recreation in 1993. One day in 1999 I sat down to write an e-mail to a friend and have a little fun. My thought was to give the 'princess and the frog' fairytale a playful twist. Okay, she was a cute friend and my intent was to flirt with her shamelessly. However that is beside the point. After all, many great endeavors have begun with nothing more than a little harmless flirting. Just ask Helen of Troy, Cleopatra, and Queen Isabella of Spain to say the least!

I never did send my friend an e-mail that day because fourteen hours later I found myself still writing. For the next fifteen years I made a hobby out of contemplating what the world of 'Forest & Kingdom' would be. Over the years the story world became richer and deeper as my life experience grew.

The overall story arc has two more parts. Hopefully they will come to fruition a bit quicker than the first. I have the story arc's general direction, but I'm quite content not to know the details until they wondrously appear in front of me as I write. I believe that the first rule in life is this:

Always leave a little room for magic.

Robert Reed Paul Thomas
Books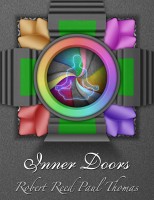 Inner Doors
by

Robert Reed Paul Thomas
Hurry! Hurry! Hurry! Step right up! See the wonders and be amazed . . . Well, perhaps 'amazed' may be a bit optimistic, but it worked for P. T. Barnum so I thought I'd give it a shot. In reality, what you will find in 'Inner Doors' are a few poems and stories drawn from my life, dreams, and hopes. I invite you to take a moment and share in my journey.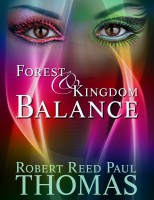 Forest & Kingdom Balance
by

Robert Reed Paul Thomas
Price:
$3.99 USD.
Words: 95,870.
Language: American English.
Published: September 2, 2014
. Categories:
Fiction
»
Fantasy
»
General
Once upon a time in a world of castles and kingdoms, a beautiful young princess rode off with her friend Froggy to enjoy the day and listen to his stories of the Enchanted Forest. Ya, right. At least that's what she thought. Princess Dionara is about to get a very large dose of reality, and if she doesn't discover her heritage and abilities quickly, her kingdom is toast!
Robert Reed Paul Thomas' tag cloud