Leon Coates
Biography
LEON COATES shares a personal relationship with his Father,God, stating that he knows God (not just knows about Him or knows of Him), but is open to Him, and is being used by Him whenever, wherever, and however He so desires and the need arises.

The books that are already in use and the ones that are following were penned by Leon, but the Lord is the Author. Four books are already in use:

1. New Testament Prophecies
2. Time in Eternity
3. Come Away My Beloved —Volume 1
4. In the Potter's Image

For speaking engagements and information on receiving the books, you may contact the author as follows:

Leon Coates
80 Mt. Calvary Rd.
Fort Gaines, GA 39851

leoncoates@alltel.net
(229) 768-2609

May God Bless!
Books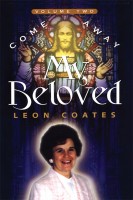 Come Away My Beloved Volume 2
by

Leon Coates
Have you ever thought about what it would be like to have God say to you, "Come away, My beloved, I long to share My heart and love with you. You are My beloved. Rise up, My love, My fair one, and come away with Me to the places I have prepared for you—a treasure house of blessings, a storehouse of grace." That is what He is saying to you through the pages of this book. Heed His call!
Leon Coates' tag cloud