Leslie Gadallah
Biography
Leslie Gadallah grew up in Alberta and is currently living in Quebec, Canada with her daughter's family and two cats, but spends the winters in Arizona. Educated as a chemist, she has worked in analytical, agricultural, biological and clinical chemistry. She has written popular science for newspapers and radio, has served as technical editor, and is the author of three SF novels and a number of short stories.
Where to buy in print
Books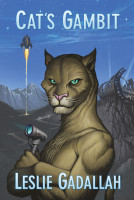 Cat's Gambit
by

Leslie Gadallah
Book 2 of The Empire of Kaz, Leslie Gadallah's fascinating alien political intrigue.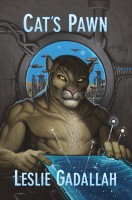 Cat's Pawn
by

Leslie Gadallah
The Kazi Empire is slowly, inexorably, expanding up the arm of the Galaxy. Only the Oriani see the danger, and only Ambassador Talan recognizes the need to include humans in the alliance to oppose the Kaz. Unfortunately, in the chess of interstellar diplomacy, humans make terrible pawns.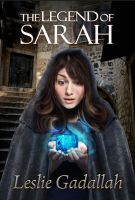 The Legend of Sarah
by

Leslie Gadallah
At fourteen, Sarah is an accomplished pickpocket and knows all the backstreets and boltholes of Monn. She steers clear of Brother Parker and his Church of True Faith, knows better than to enter the Inn of The Honest Keeper, and avoids the attentions of Butch, the Miller's son, as best she can.
Leslie Gadallah's tag cloud