Leslie Langtry
Biography
Leslie Langtry grew up in the small town of DeWitt, Iowa, where her teachers wrote, "Leslie spends too much time day dreaming in class," on her report cards and kids wrote, "You are funny and really weird," in her yearbooks. For some idiotic reason, Leslie didn't fulfill her dream of becoming a published author until much later. Instead she lived and worked in Lynchburg, Virginia; Springfield, Illinois; Clinton, Iowa; and Rock Island, Illinois. Now she lives in the Quad Cities with her husband – Tom, kids – Margaret and Jack, a Pug, a Basset Hound and two cats. She divides her time between writing, her most excellent critique group and her perfectly behaved Girl Scout troop. Leslie is currently working on her next book. For more information, check out www.leslielangtry.com.
Where to find Leslie Langtry online
Books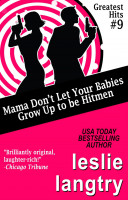 Mama Don't Let Your Babies Grow Up To Be Hitmen
by

Leslie Langtry
A new chapter in the Bombay Family of Assassins Saga! Romi Bombay and her cousins are about to find out if they've got what it takes to make their own mark on the Bombay Legacy in MAMA DON'T LET YOUR BABIES GROW UP TO BE HITMEN.
Leslie Langtry's tag cloud