leticia2
Biography
Leticia Afonso is a Software Engineer by profession. Born and brought up in Goa – A beautiful state in India. She believes in living life to the fullest. Since childhood she was always fond of literature. She loves to write articles and poetries. She loves to go on treks, adventures, bike rides. She believes in making this world a little better for each one of us to live in. She strives to help as many people as possible in this life's journey of hers. She looks forward to a more happier world. She wants to touch as many lives as possible with her work. That is her soul purpose in life – To make people around happy and to help them believe in themselves. To inspire people to live up to their dreams is what she wants to achieve in life.
Books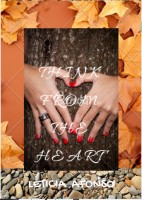 THINK FROM THE HEART
by

leticia2
The book is about inspiring the reader to look towards life a little better. It inspires people to follow their dreams. And not to give up half way through it. It teaches people to dream again, to have goals. And that the sky is the limit. We can achieve anything that we desire.
leticia2's tag cloud