Lexi Wood
Biography
LEXI WOOD is a sock puppet who came to life one night while her keeper was out picking up Chinese food. When nobody's around, she bashes her face against a typewriter until stories come out. And those stories are shocking.

Lexi's exterior is 53% acrylic, 37% nylon, and 10% recycled tinsel. On the inside, she's full of bloodlust, wanderlust, lust-lust, bathtub gin, and pills she found on the floor. She also got into those tranquilizers you give your cat to get it in the travel carrier. You shouldn't leave those things lying around.

Handmade in Vulgaria.

When she's feeling dirty, Lexi likes to be held in soapy water and rubbed vigorously. In her spare time, she sits on the shelf, waiting for someone to shove a fist in her hole. Dance for Daddy, Salome is her first novella.

Who would? Lexi Wood!
Books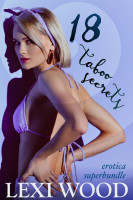 18 Taboo Secrets Erotica Superbundle
by

Lexi Wood
Girls who want it, men who shouldn't, forbidden first times and titillating taboos! Everything you want is right here in 18 Taboo Secrets, a superbundle of erotica that's almost too hot to handle. Satisfy your cravings for innocent younger women, attractive older men, and girls who want to have fun with eighteen taboo tales from Lexi Wood!
Bearly Legal: Teddy Bear Erotica
by

Lexi Wood
When the mean girls give Margie a bear for her birthday, she knows they're up to no good. As soon as she gets the gift home, she discovers this is no ordinary teddy bear. The cuddly toy is possessed by some kind of demonic force! Innocent Margie can struggle and squirm all she likes, but she can't escape her birthday bear's clutches.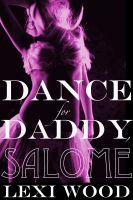 Dance for Daddy, Salome
by

Lexi Wood
Will Salome give in to step-Daddy's whims when she only has eyes for her new step-brother?
Lexi Wood's tag cloud