Lida R. Baker
Biography
Lida R. Baker has been a teacher, author, and editor in the field of English as a Second Language for over 30 years. She taught for 25 years in the intensive English program at the University of California, Los Angeles (UCLA) Extension. Her first book, Interactions 2: A Listening/Speaking Skills Text was published in 1985 and is now in its 6th edition. Since 1985 she has written many more student books, teacher's guides, and online practice exercises. Ms. Baker is a member of the TESOL International Association and was recently chair of the Materials Writers Interest Section. She lives in Los Angeles, California. Her many interests (besides ESL) include choral singing, swimming, folk dancing, reading, and gardening.
Books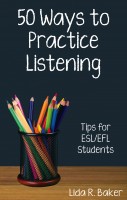 Fifty Ways to Practice Listening: Tips for ESL/EFL Students
by

Lida R. Baker
This book is for students of English as a Second or Foreign Language. You will learn 50 ways to practice and improve listening skills. By applying these methods, you will be able to understand what you hear more easily. You don't need to be in an English-speaking country or in an English class to use this book. Contains recommendations for websites, songs, note-taking, and listening strategies.
Lida R. Baker's tag cloud