Stacy S. Kim
Stacy S. Kim, Ph.D., founder of Life Junctions LLC, is a certified career and life coach helping high-achieving, deeply caring women and parents balance their ambitions, passions, and energy for the people they love. Through individual coaching services, a blog, a newsletter, and workshops, she translates research into concrete strategies in a style that is intellectually stimulating yet fun. She both energizes and reassures her clients, readers, and audiences, enabling them to pursue rewarding careers and live more fulfilling lives.

Dr. Kim loves speaking to parents, schools, employee groups, and professional organizations. She can uplift, calm, and engage even the most weary or discouraged audience. Recent venues and groups include: the New York Times Parent Support Group, the Kramer Levin Naftalis & Frankel LLP Working Parents Affinity Group, the Merrill Lynch Women's Exchange, the Mom Corps 30 Minute Mentor program, the Jewish Community Center in Manhattan, Lighthouse International, the Ethical Culture Fieldston School, the Mandell School, Rutgers Church Community Programs, and private homes.

Dr. Kim has more than fifteen years' experience in early childhood education and work-family research. She has worked for such institutions as Columbia University and the Families and Work Institute, where she coauthored Feeling Overworked: When Work Becomes Too Much with Ellen Galinsky and James T. Bond.
Dr. Kim earned her doctorate in educational policy and leadership at the University of Pennsylvania; her coaching certification at the Institute for Professional Excellence in Coaching (iPEC), an International Coach Federation-accredited program; and her bachelor's degree at Northwestern University.

Dr. Kim has appeared on media outlets such as NPR and CNN, and her work has been featured in print publications such as the Chicago Tribune.

She was born and grew up in Seoul, Korea, and currently lives with her husband and two children in New York City.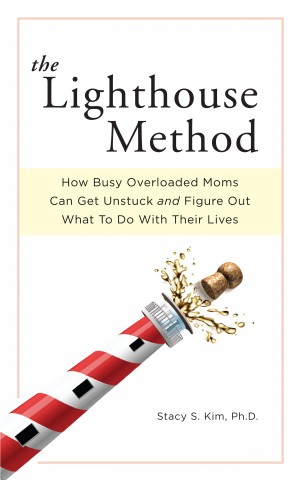 The Lighthouse Method: How Busy Overloaded Moms Can Get Unstuck and Figure Out What to Do with Their Lives
by

Stacy S. Kim
Too many smart and talented moms dream of restarting or shifting careers but find it hard to turn those dreams into action. This brief introductory guide explains how The Lighthouse Method can help you finally get unstuck and discover what you want do with your life. Dr. Stacy Kim, a social scientist turned life coach, offers counterintuitive yet enjoyable strategies that helped her clients.