Linda Haverstock
Biography
I live on Harstine Island in Washington State. I love science and history and love to visit places loaded with both. I try to write things to let others know how interesting they are.
I've been dumped over on a sailboat, ridden in a submarine and seen a large shark out the window, been bitten by a porpise and a snake (but not at the same time),watched a cougar slink across a reservation road at sunset. But my favorite thing is to read a really good book.
Books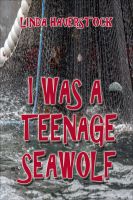 I Was a Teenage Seawolf
by

Linda Haverstock
On an eighth-grade whale-watching trip he will always remember Ryan gets pushed into the Canadian ocean by the lovely Tiffany. The boat goes on its way leaving him in a pod of killer whales. And, man, it's cold! But wait, he seems to be changing...
Linda Haverstock's tag cloud