Mark Hare
Biography
I sometimes think growing up on the edge of the Louisiana bayous shaped my desire to write. That air of Gothic romanticism, a southern flavoring and atmosphere impossible to ignore or duplicate, appealed to me. A voracious reader, equally gobbling up Alexander Dumas, Robert Louis Stevenson, Victor Hugo, Jules Verne, and H.G. Wells on the one hand and the 1930's pulp novels on the other, becoming a writer was a natural outgrowth of such inspirations. When the writing bug bit me when I was eleven, I became lost and never looked back.

I hold degrees in history, government, and computer science. My interests are as varied as my education. I am an avid photographer, amateur pianist, and novice chess player. Yet the passion to write fantasy and science fiction stands first.

I've been told my style is not marketable: it's too old-fashioned, too descriptive, too poetic, or too imaginative. After years of writing, seeking to get things in print, here I am on Smashwords to prove the doubters wrong.

With good fortune, and the favor of kind, tolerant readers, I hope to entertain, enlighten, and perhaps make a few pennies along the way. So please check out my stories. I hope you find something you like.
Books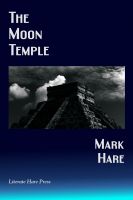 The Moon Temple
by

Mark Hare
At the Great Festival, Elsu woos the beautiful Kai and swears a rash vow to win Kai's hand. Now Elsu and his best friend sail to the forbidden sunken city of Angor Drava to steal the eyes from a statue. But a terrible and deadly evil awaits them in the dark water.
Mark Hare's tag cloud