Pamela Gerstmann
Biography
I'm living my dream! But... it wasn't always that way. I actually started my career in 1999 in Munich, Germany in tourism. Over the years I worked across many departments and fields, as a sales rep and managing client service teams until I thought I had found my niche in flight management.

However, there was still a nagging feeling inside me that I wanted something more and, in 2006 I decided to travel the world for a year. I simply fell in love with Australia. My dream became to move here, however it wasn't to be an easy journey. I tried for many years and even commenced studying accounting as I have always been great with numbers. Pursuing my goal cost me 10 years of my life, including my partner, but eventually my dream came true, in April 2013 I boarded the flight that changed my life!

I arrived in Melbourne and am now doing what I always wanted to do - continuing my studies in accounting and more importantly working with Wealth Enhancers using my skills and knowledge. I know now that I truly have found my passion.

I still love to travel, and in my spare time enjoy dancing and spending time with friends. Most importantly... I make every day count!
Books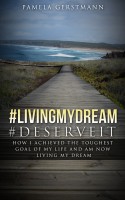 #Livingmydream
by

Pamela Gerstmann
My name is Pam and I'm living my dream! But... it wasn't always that way. My background is German and I'm an 80's girl. I grew up in East Berlin before moving to Munich, Germany in 1997. I gave up everything I had and worked hard to make my dream come true. I'm now #livingmydream because I #deserveit! I make every day count. Come back with me on my journey of life.
Pamela Gerstmann's tag cloud