Liz Monroe
Biography
Liz lives in a small town in the Midwest with her husband, two sons, and evil cat. She's always had a love for writing but just recently started with novels. She's a firm believer in the magic of coffee and music. When she's not writing she's a human trampoline for her toddlers. When she can escape that she's reading. She loves living in the worlds of dystopian, YA, and, NA.
Books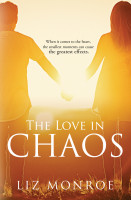 The Love in Chaos: Jasper's Story
by

Liz Monroe
There was a time when Jasper Everett had everything he wanted. One chance. I believed for everyone there was one chance at great love. One perfect match. But mine died. So, I closed my heart and chased mistakes. Until a desperate attempt at a relationship lead me back to the beginning. It was somewhere I never thought I would be, but fate brought me back to her.
Liz Monroe's tag cloud