L. Julia
Biography
L. Julia has loved speculative fiction since she was old enough to lift hardback books. As a way of pursuing her passion for fiction, she earned a bachelors in English Writing from UPitt. She also earned an MBA at DePaul, as a way of pursuing her passion for paying the bills.

As of 2017, she's the CFO at an extremely cool video game merchandise company. When she's not staring at spreadsheets or working on her next novel, she enjoys playing with her two stubborn corgis and spending time with her husband in the Santa Clara sun.
Books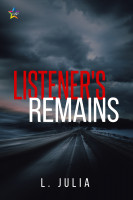 Listener's Remains
by

L. Julia
Gillen Lynch has a complicated relationship with his brother-in-law, Eduardo Sanchez. Gillen hasn't mentioned his attraction to Eduardo; Eduardo hasn't mentioned he's a mind reader. Betrayed by the deception and mortified by his attraction to his sister's spouse, Gillen decides to take it out on Eduardo by killing him.
L. Julia's tag cloud