Laura Kosloff
Biography
An environmental lawyer since 1985, I started out as a legal editor. I spent 18 years first as General Counsel of Trexler Climate and Energy Services, Inc., a widely respected energy and climate policy consulting firm, and later as Senior Associate Counsel for EcoSecurities, an international climate policy and carbon project firm, while raising two boys. My husband, Mark Trexler, and I continue to work together on climate and energy issues, just trying to make a difference! I also do private tutoring on law subjects and LSAT exam prep. Together with my husband, I work as regional coordinator for one of the largest high school foreign exchange programs operating in the U.S. We oversee foreign teens studying in the U.S. and provide advice for students and host families. We manage a blog on cultural exchange at The Exchange Mom, www.exchangemom.com. We live with our two German Shepherds in Portland, Oregon; our younger son is in college two hours away and our older son recently moved to Washington, DC, to start his post-college adult life.
Where to find Laura Kosloff online
Books
Carbon Pricing for Climate Change Mitigation
by

Laura Kosloff
The Carbon Pricing for Climate Change Mitigation Topic Guide introduces you to the complexity of carbon pricing, surveying the many ongoing carbon pricing conversations.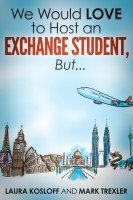 We Would Love to Host an Exchange Student, But …
by

Laura Kosloff

&

Mark Trexler
Host parents, parents back home, and students themselves are making a big investment when it comes to any of the high school study abroad options. Too often that investment doesn't fully pay off, usually for predictable and avoidable reasons. This book can change that.
Laura Kosloff's tag cloud