Louis Lamoureux
Biography
Louis Lamoureux attended Stevens Institute of Technology on the banks of the Hudson River. The New York skyline inspired a short story about cartoon heroes from his childhood. The story was archived on a hard drive and life moved on. After graduation, he co-founded a company selling engineering design software in the Mid-Atlantic region. When his failing kidneys made it difficult to work, he sold his half of the company and rode a bicycle to alleviate the side effects.
His health declined gradually until his blood was poison. After years of declining health, a kidney transplant, donated by his mother, instantly restored his health and he felt like Superman. While recuperating from surgery, Superman saw the Race Across America on TV and vowed someday to compete in the race. Superman signed up for a transcontinental bike tour averaging over a hundred miles a day. Nine months after surgery, and a month after losing the feeling of being able to outrun a speeding bullet, Lou rode from Seattle, Washington to Williamsburg, Virginia.
Several years later, Lou competed in the Race Across America with three cool guys, they crossed the country in 7 days 14 hours and 39 minutes. He attempted the race solo twice.
His transplant failed in 2008 and Lou opted for dialysis treatments, an ugly primitive ritual that drained his soul and left him feeling hollow and angry. Having grown accustomed to spending hours on his bike roaming the countryside, imprisoning him in a chair three times a week for dialysis was torture. He needed to move, but couldn't. He stumbled upon that old story on his hard drive and jumped inside.
In 2010, dialysis became increasingly painful. His sister donated a kidney to save his life.
Louis Lamoureux lives in Northern Virginia with his wife and four children.
Books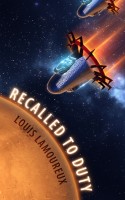 Recalled To Duty
by

Louis Lamoureux
They never expected to live long enough to retire, but the crew of the Aegis got lucky. In the ten years since the Shillaqi war, they've dodged the press, diehard fans, and their own inner demons. When a new threat is detected at the edge of the solar system, the washed-up superheroes are still Earth's best hope. Will the crew of the Aegis survive one more battle? Do they even want to survive?
Louis Lamoureux's tag cloud