Leilei Malatse
Biography
Leilei Malatse is working on two blogs on Wordpress, Lei's Muses and Familiar Strangers, and is writing on her first novel that promises love, adventure, action with strong female protagonists and possibly the supernatural. Leilei is a bibliophile and loves staying up late to write her blogs and work on her storylines. When she's not reading, Leilei is studying hard to earning her BFA in Creative Writing at Full Sail University. Leilei is from South Africa and plans on telling the stories of her ancestors in the near future. She enjoys watching horror and action movies with her brothers and just recently got into The Office on Netflix. You can follow her works on leimuses.wordpress.com and familiarstrangerweb.wordpress.com. She can be followed on twitter @B_Asteria and on LinkedIn at https://www.linkedin.com/in/boitumelo-malatse-49187099/.
Where to find Leilei Malatse online
Books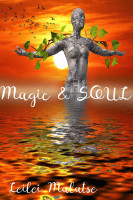 Magic & Soul
by

Leilei Malatse
MAGIC AND SOUL is a book of short fictional stories about women who encounter magic, explore adventures, and full of life!
Leilei Malatse's tag cloud