Bill Goodrich
Biography
Bill Goodrich is a United States Army veteran, and a long time personal trainer. A lifelong consumer of science fiction, and fantasy, in all of its forms, he finally jumped off the procrastination train, and wrote his first book. The aspiration here is one of igniting future imaginations of readers, just as earlier works had inspired him.The fun is in creating original characters, worlds, and situations, and hoping they become iconic.
Smashwords Interview
Books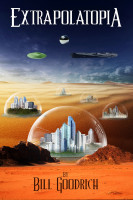 Extrapolatopia
by

Bill Goodrich
Anthology of 24 speculative fiction stories, with elements of fantasy. Hints of a shared universe are scattered about the book.
Bill Goodrich's tag cloud