Lois Henderson Bayliss
Biography
Lois Henderson Bayliss (1903-1989), writer and mother, was born and raised in Cambridge, Massachusetts. Her father was assistant postmaster of Boston and a Cambridge alderman and businessman; her mother was from a prominent Cambridge family. The Hendersons spent summers on Cape Ann and returned to the city for the school year.

After high school Lois worked in journalism and publicity, hoping for a literary career. She married in 1925. Children quickly followed, and then separation and divorce.

A single mother during the Great Depression, she moved frequently, barely scraping together a living through work, charity, and welfare, while writing fiction and poetry.

In later years Lois Bayliss continued to write, as she held jobs in various parts of the Americas, including as cook, caregiver, Bible saleswoman, ship stewardess, pantry-maid, and rooming-house manager. In the late 1950s she lived in a Bruderhof religious commune in Paraguay, afterward returning to her Episcopalian roots. She never secured a publisher for her manuscripts.
Books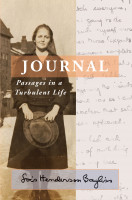 Journal: Passages in a Turbulent Life
by

Lois Henderson Bayliss
This intimate record - written by a gifted story-teller in spurts from 1931 to 1974 - provides glimpses into pre-World War I Cambridge and Rockport, Mass., the Great Depression, a Paraguayan commune, and Boston rooming houses and slums, while conveying the writer's day-to-day thoughts about love, poverty, child raising, joy, loneliness, and God.
Lois Henderson Bayliss' tag cloud