Lon D. Haden
Biography
Born in central Kansas, Lon D. Haden spent much of his childhood near and around Ellsworth, Kansas, a city rich in western history. Born to a farming family he eventually took over the family grain and livestock farm, where he raised his family in the same rural area that he investigated as a boy.

Like many who choose to till the soil, he worked off the farm from time to time. He has worked as a packing plant laborer, livestock feed salesman, and retired from the Ellsworth Correctional Facility where he worked for thirteen years.

He served on the Ellsworth-Kanopolis school board for eight years, including a term as president. He also served as a member of the Ellsworth County Historical Society Board of Directors.

Lon D. Haden began his writing career after he retired form the Ellsworth Correctional Facility. His first book Shadows on the River became an instant hit. His latest offering Long Trail to Ellsworth depicts what life was really like when cattle were driven from Texas to the railheads in Kansas. His no-holds-barred portrayal of an old west cow town leaves little to the imagination and may surprise the uninformed.
Books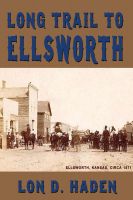 Long Trail to Ellsworth
by

Lon D. Haden
Gunfighter Chase Bucklin agrees to help his recently widowed sister-in-law trail a herd of cattle from southwest Texas to the railhead at Ellsworth, Kansas, but first he must rescue his kidnapped nephews. Then armed with a six-gun on his hip, and a Bible in his saddlebag, Bucklin and his partner Yancy Andersen deal with desperados, Indians, violent storms and a flooding river.
Lon D. Haden's tag cloud