Lonnie Hudspeth
Biography
Lonnie Hudspeth, PhD

serves as both an administrator and a faculty member at the University of the Virgin Islands. As administrator, Dr. Hudspeth serves as Institutional Director of Student Learning Outcomes Assessment (SLOA). As a tenured faculty member, Dr. Hudspeth is an Associate Professor of Management and Marketing. As Director of SLOA, Dr. Hudspeth leads the University's planning and implementation of student learning outcomes assessment. This includes serving as founding Chair of the university-wide Committee on Learning Assessment for Student Success (CLASS) and as founding Chair of the Faculty Learning Assessment Community (FALC). Dr. Hudspeth also serves on the UVI Institutional Effectiveness and Assessment Advisory Board (IEAAB), the Board of the Center for the Study of Spirituality and Professionalism (CSAP), and the UVI Honors Council, all of which he's a founding member.

As a tenured Associate Professor, Dr. Hudspeth has developed and successfully deployed an innovative approach to teaching and learning called "The Hudspeth Method", which among many achievements, enables students to master the text book knowledge in one month or less. Dr. Hudspeth teaches several courses in the management and marketing discipline including strategic management, principles of management, production and operations management, marketing research and advertising and promotional strategy. Dr. Hudspeth identifies local small business entrepreneurs in St. Thomas whom he assigns his students help solve real business problems or identify business opportunities.

Dr. Hudspeth contributed to UVI's recent successful Middle States Accreditation Mid-Term Periodic Review by serving on the task force and writing the critical student learning assessment section of the report. Dr. Hudspeth served on UVI's previous Reaffirmation of Accreditation Task Force, Chairing of the Student-Centered Processes and Outcomes Sub-Committee and through his leadership of CLASS which enabled UVI to meet MSCHE's Standard 14 – Assessment of Student Learning.

Previously, before joining it's faculty, Dr. Hudspeth served as Director of the Entrepreneurial Development Center of the Florida A&M University School of Business and Industry. He completed his PhD in Manufacturing Management and Engineering in 2004, from The University of Toledo, and his Master of Business Administration (MBA) in 1992, from Florida A&M University.

Dr. Hudspeth has co-authored "Strategic Marketing Analysis: Business Intelligence Tools For Knowledge-Based Actions" and has published several journal articles. He is a member of the Society for Advancement of Management, the National Business Education Association and the Decision Science Institute. In 1999, Dr. Hudspeth and two of his colleagues at the University of Toledo received honorable mention recognition as one of four finalists for the Instruction Innovation Award at the Decision Science Institute's National Conference. Dr. Hudspeth's book, "The Power of a Learning Culture" was published in January, 2010. His current book, The Process: An Amazing New Approach To Discovering And Achieving Your Life's Purpose And Success, will be published in Summer, 2013.
Books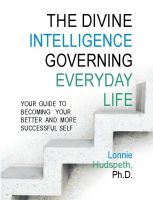 The Divine Intelligence Governing Everyday Life
by

Lonnie Hudspeth
The Divine Intelligence Governing Everyday Life: Your Guide To Becoming Your Better And More Successful Self. "Most people don't seem to recognize that their everyday life experiences and relationships are their teachers, gurus, shamans, and higher intelligence guides."
Lonnie Hudspeth's tag cloud